Our Team Is Available 24/7 To Restore Your Hartford Property
10/9/2019 (Permalink)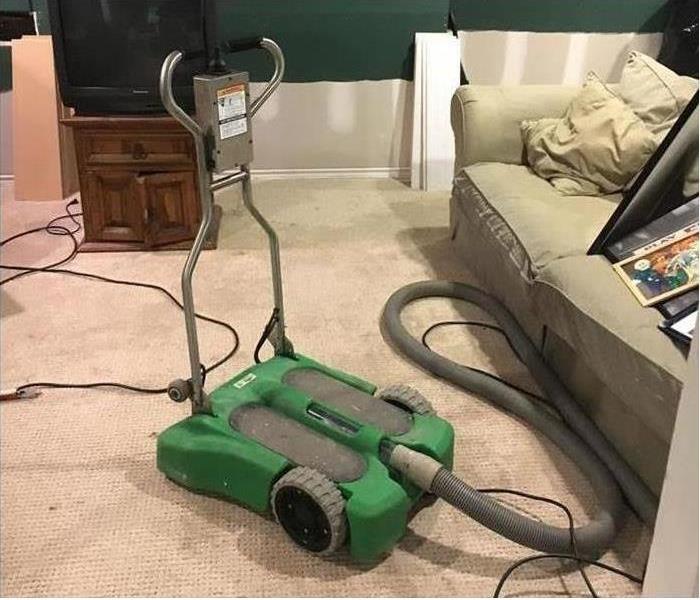 Our industry certified technicians are equipped with the latest restoration equipment available like the "Rover" pictured here.
Water Removal in Hartford Properties Must Address Upholstered Furniture and Saturated Carpets
Finding your Hartford home flooded from a broken pipe when you return home from work can put your life in turmoil. No matter what your plans were for the evening, this is a crisis that needs your immediate attention. SERVPRO is available 24 hours a day, every day of the year because we know that emergencies can happen at any hour of the day or night.
When a homeowner in Hartford calls for water removal and extraction services, they can depend on us to get their house's interior back to average moisture content percentages. SERVPRO's employees work in teams so accomplishing the goals of each job happens quickly. We understand that your family did not ask for such disruptions and the stress that comes along with them.
Because water migrates from wet areas into drier locations, we often isolate large items that retain large amounts of water. Your furniture, especially sofas and larger stuffed chairs, can hold onto water because of the upholstery blocking air currents. While this type of fabric often comes with a stain repellent, its weave can keep air from penetrating enough to whisk moisture out. Leather furniture also poses the same challenge.
We often use drying chambers to get these pieces dry again. These chambers are temporary enclosures, made out of clear plastic, and large enough to allow air currents to pass around the items inside. At one location, we place an air mover that pushes dry air inside, and at another location, we situate a desiccant machine to strip the air of any moisture before releasing it back into your house. In certain situations, we might exhaust the dampened air out a window, but this only happens when the air outside is relatively dry compared to the air inside.
With carpets, we often force air underneath it. However, when a carpet contains smaller areas that got wet, we can use a weighted instrument that forces the water out while simultaneously extracting it through a suction unit. This tool, often called 'the claw' (although it does not cause any water damage to the pile of the rug), can also help us remove stains if we treat them early enough.
Removing water to dry out your home happens much more swiftly when we treat more heavily saturated items separately. SERVPRO's services are always scalable and never too much, nor ever inadequate. Call SERVPRO of Newington / Central Hartford at (860) 667-9191 after your home takes on water and you want it dry again as quickly as possible.
See more about Hartford.