Is Your Washing Machine Spinning Water Damage in Newington?
3/6/2020 (Permalink)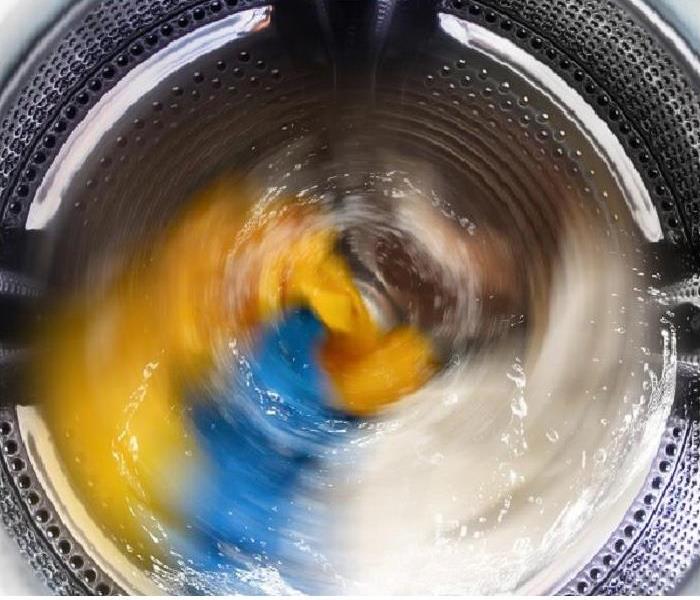 Leaking washing machines can cause significant monetary losses for homeowners. Inspect your appliances often.
Newington Home Needs Water Removal from Washer Malfunction
No one ever expects laundry day to end suddenly with water damage. When a washing machine malfunctions, the water in the tub can leave a substantial mess when it winds up on the floor.
One of the biggest problems, when a Newington home needs water removal, is the migration of the water. Mopping and using towels may work to pick up some of the water, but it runs behind baseboards where it gets wicked into sheetrock. Tile and carpeted flooring can require removal to dry the subfloor.
Why SERVPRO?
No matter if your regular laundry day is at 3 AM or 3 PM, SERVPRO technicians are ready to come to your home for any necessary water extraction and drying services. After the initial phone call, the team arrives within four hours to begin the cleanup needed. The techs undergo extensive training and adhere to the best practices as taught through The Institute of Inspection, Cleaning, and Restoration Certification (IICRC).
Fast Restoration Services
In the case of this washing machine malfunction, the techs removed the washer and dryer from the laundry room as the subfloor showed that it took on water according to their moisture detection equipment, which meant the tile flooring required removal to open up the subfloor. Still, the techs saved the tiles for cleaning and reinstallation. They also removed the baseboards and drilled weep holes to assist with drainage.
Drying the Laundry Room
SERVPRO techs have many types of specialized equipment for drying. Drying mats are especially useful for forcing warm, dry air into the subfloor to force embedded moisture out. Air movers and Injecti-Dry worked to dry the floor joints and the rest of the laundry room. The techs carefully monitor the loss area during drying to ensure that measurements confirm it attains the preset goals for measurable air moisture. Once dry, the techs wipe down the area and ensure it is ready for the reinstallation of the tile and a new washing machine to get laundry day back to normal.
Contact SERVPRO of Newington / Central Hartford at (860) 667-9191 when you need water removal. With their equipment and years of experience, the technicians have the skills necessary to make the water loss, "Like it never even happened."
More about Newington.