Strategy for Maximizing Water Damage Remediation in Hartford
9/7/2022 (Permalink)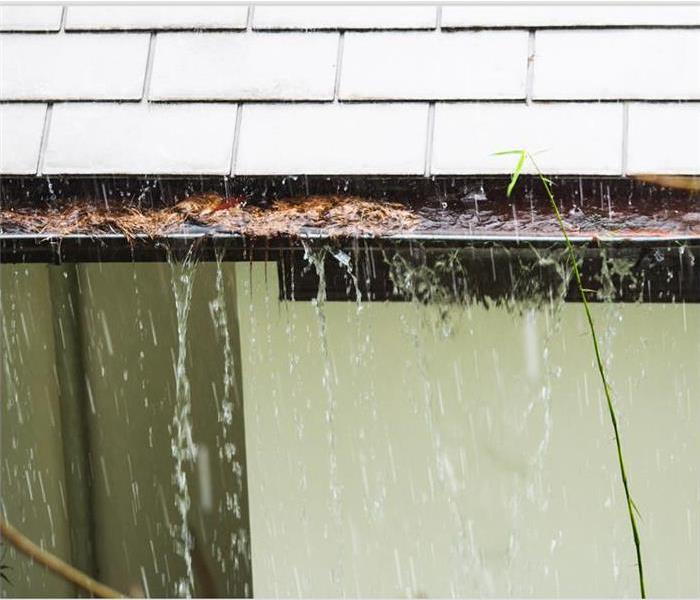 When your home has clogged gutters, water damage can quickly follow. Contact SERVPRO to investigate, assess and then remediate the damage.
Clogged Gutters Cause Water Damage to a Hartford Home
Gutters are crucial for maintaining a dry, leak-free structure. All it takes is some clogging to bring water into your home. This moisture can seep through cracks in exterior walls, foundations, and basements to saturate structural materials and create an environment that can host mold and other bacteria.
If your Hartford home has suffered water damage due to clogged gutters, downspout issues, or other structural maladies, certified SERVPRO technicians are ready to provide you with service that aims to restore your residence to its pre-damaged condition. Technicians, staff, and franchise owners alike receive extensive training, certification, and continuing education opportunities through SERVPRO's comprehensive learning modules to ensure that all employees are knowledgeable and better able to assist homeowners with all of their needs after a disaster occurs.
Tips for Maintaining Your Gutters
Clean your gutters regularly. Make sure that they are clean and free of debris. Use leaf guards to cover gutters where trees overhang the roof line.
Secure the gutters properly. If needed, replace gutter spikes with screws using a cordless drill for better support.
Apply silicone caulk to seal leaks. You can use a garden hose to check the joints and seams for potential leaks that could affect the integrity of your gutters. Clean the affected area before applying caulk.
Keep your downspouts in good shape. Keep them clear of debris, and ensure they point away from your home.
Monitor the water runoff from your downspouts. You can use downspout extensions, irrigation pipes, or splash blocks to ensure that water is diverted away from the structure.
How SERVPRO Saves the Day
When SERVPRO professionals come to your home, they thoroughly inspect the affected area for water damage. A variety of moisture measurement tools are used to evaluate the source of leaks and the extent of damage to materials. This equipment can include infrared cameras to see behind structures, penetrating and nonpenetrating sensors and meters, and hygrometers that can evaluate air temperature and humidity to maximize accuracy in calculating drying times and conditions.
From there, technicians focus on extraction with portable, back-mounted water removal equipment to prepare the affected area for drying. Walls and ceilings may have weep holes or small cutouts drilled to maximize ventilation during the drying process. If fiberglass insulation has been affected by water damage, technicians may be able to salvage it after using a specialized insulation vacuum to collect the material and dry it separately from the structure.
SERVPRO of Newington / Central Hartford can ensure that your home looks "Like it never even happened." Call (860) 667-9191 for rapid disaster cleanup that can start within hours of your initial contact.