Deodorizing After a Living Room Fire
8/4/2022 (Permalink)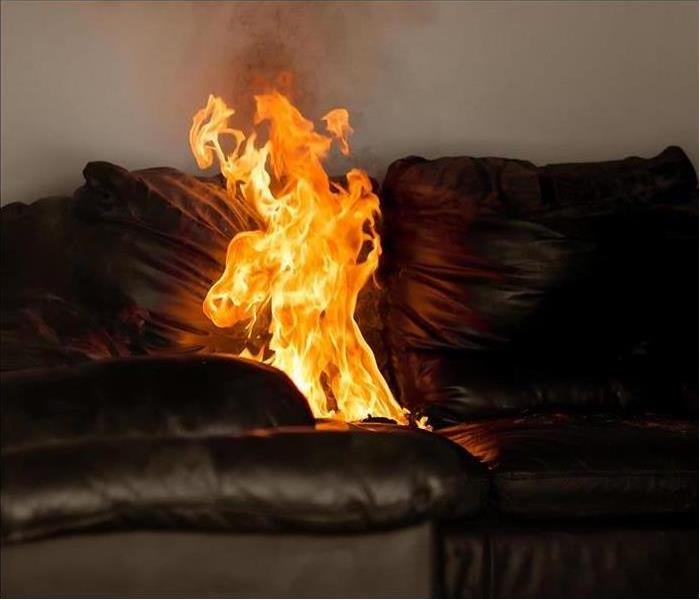 Disaster may strike at any time in Newington. Call SERVPRO for the fire damage restoration services needed for your property.
What Deodorization Methods are the Most Appropriate for My Newington Home
My Upholstered Furniture Smells Like Smoke; What Should I Do?
The Newington SERVPRO team cleans and deodorizes after a fire in your Newington house, you may think your furniture is unsalvageable. However, our trained restoration specialists use their knowledge to employ the proper techniques to restore your belongings and affected living space. Our goal is to make it "Like it never even happened."
Do I Need to Wet or Dry Brush My Couch?
SERVPRO determines the best cleaning technique by spot-testing the fabric during your fire restoration project for your Newington property, two of your biggest concerns are cleaning and deodorizing. It is essential to clean thoroughly to help facilitate the deodorization process. However, it is equally as important to choose the correct cleaning method to prevent further damage. Technicians spot-test the fabric to determine if the residue is dry and can easily be brushed or vacuumed or if it is sticky and requires wet cleaning methods.
What Other Methods Help Deodorize My Furniture?
Injection Method: Technicians inject small amounts of deodorizers using a syringe into stubborn spots on upholstery. This also works for carpets in cases when reaching the backing becomes difficult.
Direct Spray: After technicians clean smoke residue, they may spray deodorizers on the affected area with a hand pump or powered sprayer.
Deodorizing the impacted area with various techniques, including fogging, venting box fans, and air scrubbers, help remove unwanted odors to your belongings.
Technicians may also choose to remove some of your furniture to an offsite storage facility, depending on the severity of the fire damage, so that they may best clean the item and the rest of your home. Our restoration team inventories each item during the cleaning process before returning it, restored, back to your home.
For 24/7 assistance after a fire, Contact SERVPRO of Newington / Central Hartford at (860) 667-9191. We're Faster To Any Size Disaster.