What Happens When Flooring in Your Newington House Gets Damaged by Flooding?
3/18/2022 (Permalink)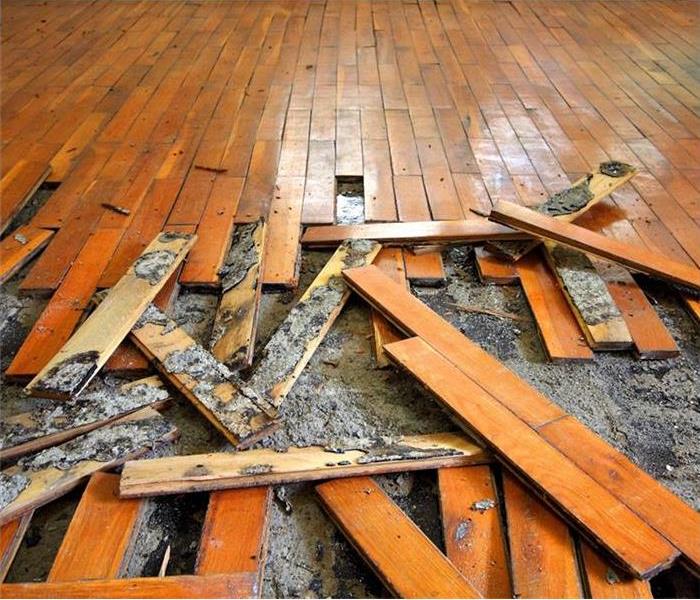 Drying out the flooring of your home after flood damage is a job for a team. Contact SERVPRO for professional remediation and mitigation services.
With Many Types of Flooring in Newington Homes, Flooding can Affect These Materials Differently.
Natural and storm-damage flooding can impact Newington homes more often throughout the year than many property owners realize. When your house gets damaged by these disasters, you want fast and reliable actions.
Flood damage to Newington homes often centers on where floodwater collects. Because of this, flooring materials are often the most severely impacted by these disasters and require extraction, drying, and cleaning. Some of the common flooring materials our SERVPRO team helps to restore include:
Carpet – Carpeting is among the most common flooring types in modern residences, and due to its high porosity, it can quickly become overwhelmed by floodwater. While tools like carpet wands can sometimes manage surface moisture concerns, it does not typically pull water out of padding material underneath.
Hardwood – Despite finishes that might slow the initial absorption of water into individual planks in wood flooring, cellulose in wood attracts moisture to the point of swelling and warping the units.
Vinyl Plank – The growing trend with vinyl plank is a finished surface and a water-resistant core. However, this does little to protect subflooring over a prolonged exposure period.
What Happens When Subflooring Also Becomes Affected?
While it can be costly enough when surface materials become too damaged by standing water, saturation can often move moisture beyond this layer you can see. Subflooring underneath the carpet and hardwood is also sensitive to water exposure. Its porous composition requires tools like drying mats to recover. If unsalvageable, these elements must also get removed and reconstructed by our in-house contractors.
Flooding can be a damaging presence to most flooring types inside your home, making it vital to move quickly when flooding exists in the house. Our SERVPRO of Newington / Central Hartford team has technicians and contractors ready and available 24/7 to help when you call (860) 667-9191.