What is the Best Way to Protect Stock in a Newington Warehouse During Commercial Water Damage Restoration
7/21/2021 (Permalink)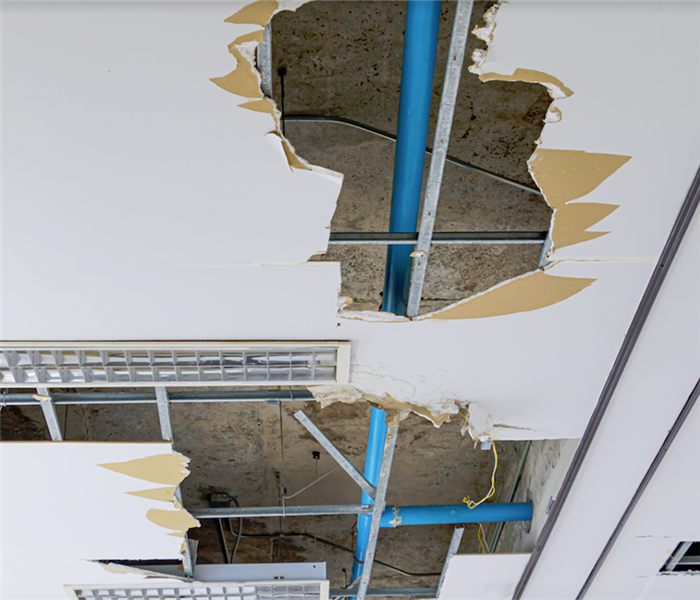 Commercial water damage can affect many aspects of your business. Contact SERVPRO to assess the situation and formulate a remediation plan.
SERVPRO Techs Work to Minimize the Need to Replace Items Due to Water Damage in Newington Properties
When the need for water removal happens in a Newington warehouse, the elevated moisture levels can cause damage to items in cardboard boxes and paper products. Failure to protect existing stock items can increase the cost to the property owner in terms of replacement of these items.

SERVPRO techs assisting Newington business properties with commercial water damage restoration services bring more than equipment to the work-site. The technicians perform several actions to help limit the damage to stored stock within warehouses and backrooms:
Taking air moisture readings and removing stock in high humidity conditions
Setting up containment to assist in keeping stock dry
Performing organized pack-out services as needed
The techs sometimes only need to cover items during the water cleanup job. When air moisture readings show high humidity conditions, the techs often opt to remove items in boxes or paper-based products to be certain these things receive no ill-effects from the moisture. The organized pack-out is a detailed process that records the area the items get removed from, their condition and exactly where they get placed so if the property owner has a question regarding a specific article, SERVPRO can get it without delay.
SERVPRO of Newington / Central Hartford at (860) 667-9191 stands ready to assist local Newington businesses with any size or type of commercial water damage restoration.